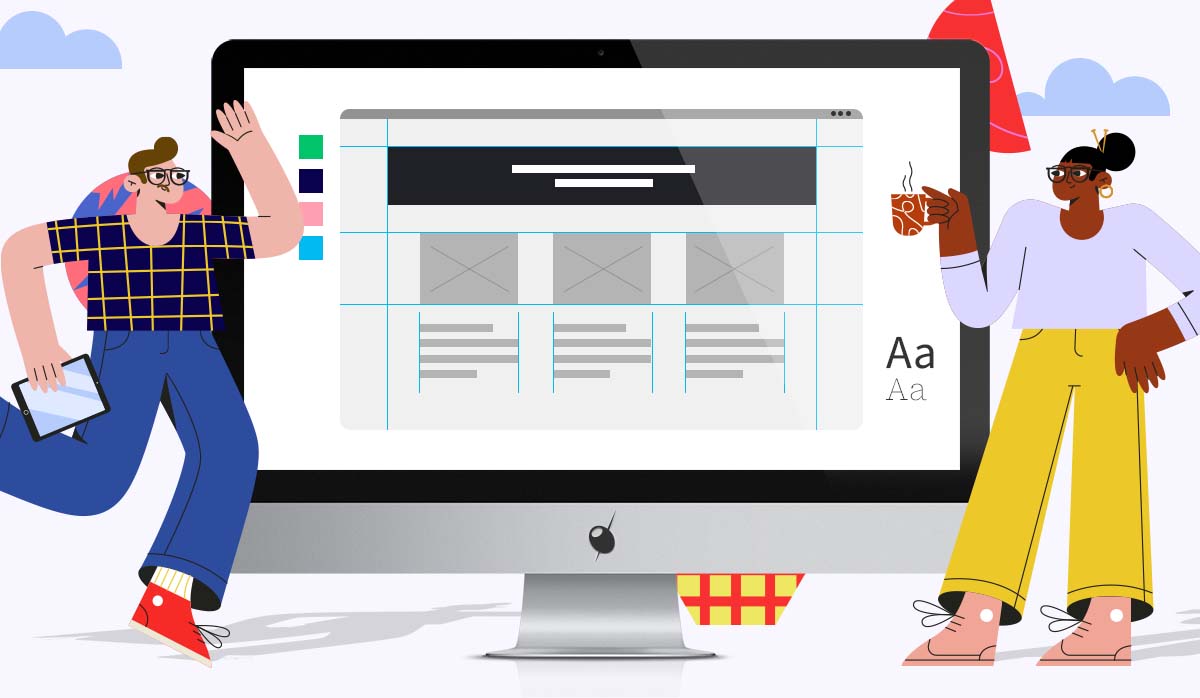 Building a Website: Where Do You Start?
You've decided to take the next step. You've considered what every business owner should know before building a website. You know the purpose of your small business website, have an idea of how you want to manage it, and have accessed your needs and budget. But where do you start when you're ready to build your site?
At Chimento Agency, we specialize in planning and building websites for small businesses. Our team created this guide to help you build your own website from start to finish, using resources from across the internet and industry-standard tools and services we recommend. Let's get started!
Choosing a Domain Name
One of the first things you need to tackle is purchasing a domain name, or the name of the web address for your site. Using the name of your business is the easiest way for people to remember how to reach your site. There are only a few reasons you may need to deviate from this standard:
Your business name is long and complicated – if this is the case, consider shortening it to an acronym, as NASA has done. Even in conversation, NASA is much easier to say than "National Aeronautics and Space Administration." Imagine typing all of that out instead of "www.nasa.gov" to get to their website! You always want to make accessing your business easy for users.
The domain you want is unavailable – When choosing a domain name based on your business, the domain name may already be in use. It may happen because someone has already purchased it or a company in a different industry and location has the same name, like Delta Airlines and Delta Faucets. Only one can use "www.delta.com"; the other must use "www.deltafaucets.com" to avoid trademark infringement and confusion. In fact, many business owners will search for an available domain name before they ever give their business a title, just to avoid problems like these!
Once you own a domain name, you can use it for pretty much anything related to your business on the internet. You can connect it to your email service for a custom email address, or connect 3rd-party marketing services for more direct brand messaging. You can also create an unlimited number of subdomains, which are addresses that come before your domain!
Here are some additional tips to consider when choosing a name:
Make it intuitive. What would someone guess for the name of your website?
Be brand aware. Think about your URL like the sign for your store's building: Does it represent your business?
Make it pronounceable. If someone calls and asks about your website, it's important to be able to pronounce it. If it's not clearly understood and you have to spend time clarifying, repeating, or spelling, it's too complicated. (Do as we say, not as we do; "chimen.to" is not very easy to send visitors to verbally, as you may have noticed!)
Keep it short! It's less likely your customers will make typos, it's easier to remember, and it caters to the immediacy website visitors expect as the world of technology has become more and more rapid.
Use .com if possible, in most cases. There may be exceptions, but it's the most common and most trusted domain extension.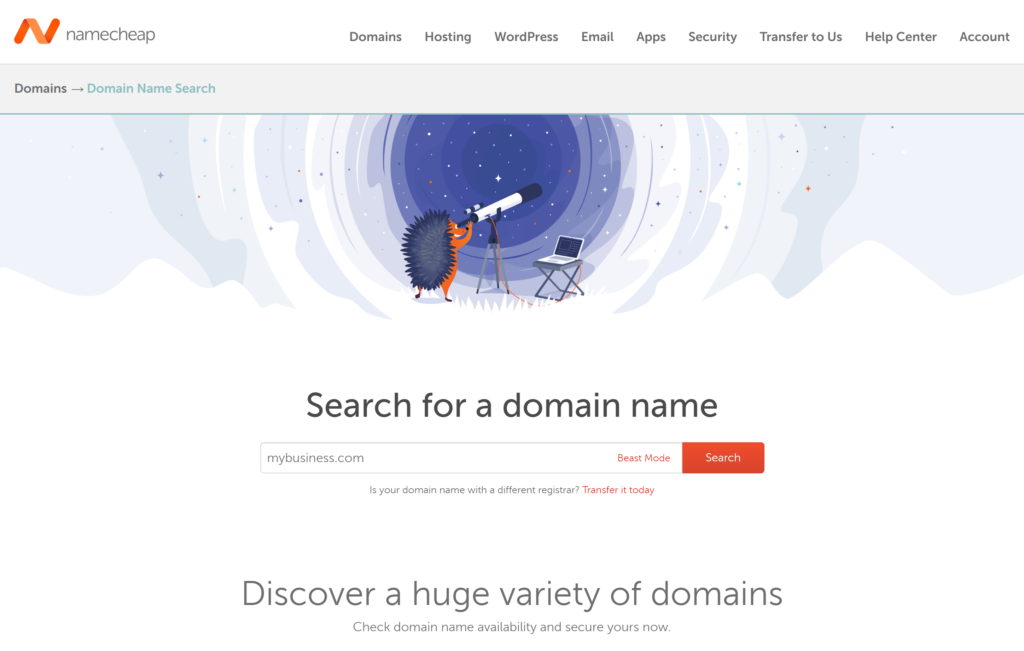 When you go to register the domain name, the domain registry site will have an availability checker. We suggest Namecheap for a budget-friendly domain service, but there are many others available. Type the name you want to use (including .com) into their domain name search. If it's available, you'll see a checkmark next to it with pricing options and can purchase the name. Otherwise, they will list more suggestions (perhaps .net instead of .com) you can purchase. If you want the .com, you can slightly change the name and check availability again.
Making your website work
The main purpose of your website is to drive leads and create sales, so you need your website to work well. It's your business's virtual storefront. It's the hub you want to direct people to through marketing, business cards, and every other touchpoint you create. Once they arrive, how do you ensure it does what it's supposed to?
Make it interactive and engaging by considering navigation and design.
Prioritize usability. Can visitors find what they're looking for easily? Can they complete basic tasks on your site without confusion? How quickly are they able to do this? If they leave and come back to the site, is it easy to remember how to navigate through it?
Design matters. Some color choices make it easy for visitors to read and view what is on your site. Others make it difficult and even cause eye strain, driving traffic away. Distracting fonts and long blocks of text can also make it difficult to read or concentrate. If the aesthetic is pleasing, visitors will spend more time on your site and be more likely to use your services or purchase your products.
Your business should be like the happy couple getting married at their wedding. Your website should function as the maid of honor or best man – you want it to be dressed up and give support but not distract from the star of the show.
SEO (Search Engine Optimization) makes sure search engines find your pages and rank them high enough that it brings traffic to your site. Multiple aspects factor into optimizing your website, but keywords are arguably the most important. Researching how to plant keywords throughout your site can help Google find your page when someone is searching for a business to use. It's an important strategy to pull visitors to your site.
Regularly creating and publishing content helps with SEO, brings in new visitors, keeps previous visitors coming back, and allows you to display how your business can help meet their needs.
Service-Oriented or Product-Oriented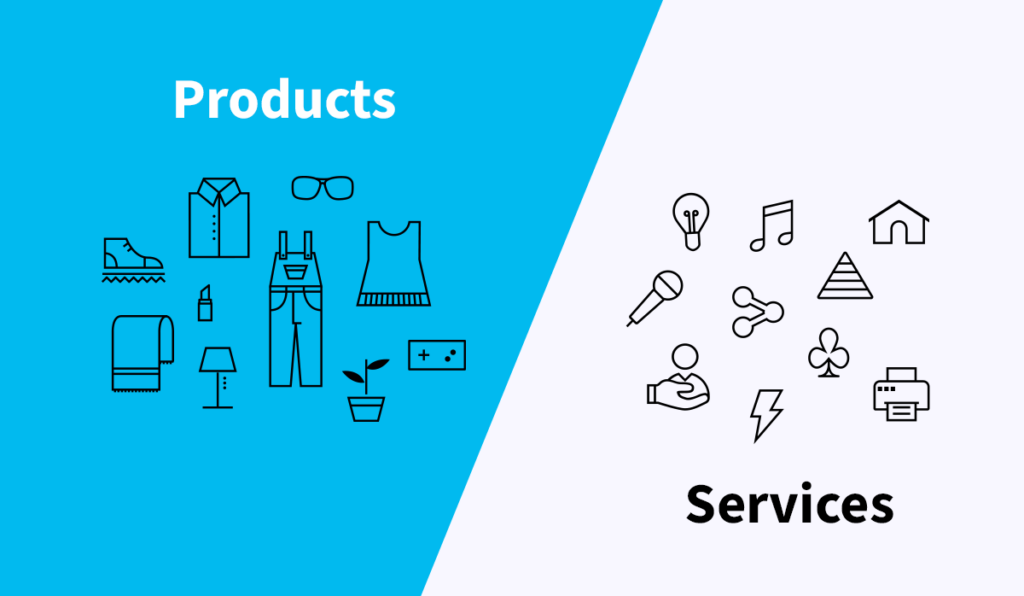 You likely have a rough idea of what you want on your website before you start building it. Comparing website design differences between service-oriented businesses and product-oriented businesses is the best starting point. It will help determine the best way to create the website based on the features needed for your business.
Service-oriented sites may have:
a description of the services you provide
a mission statement
consultation/appointment/service requests
quote requests
chat feature
testimonials for your services
A product-oriented site is an eCommerce site. This site is designed as a storefront. It should have:
product listings
product descriptions
reviews
shopping cart feature with secure payment methods
chat feature
FAQ section for products
Outline
Once you've narrowed down if your site will be service-oriented or product-oriented, you're ready to create an outline.
It's best to start small and add to your site with growth. By starting with what you need and keeping growth in mind, you will be able to make a better decision about what tools you want to use to build your site.
Write or sketch out an idea of what you want on your main page. What other pages do you need? Are there specific menu options you want? Will you have a form for clients to contact you? Or products listed with a shopping cart and payment options?
There are two main tools you can use to build your website. You could go with a website builder (such as Squarespace, Shopify, or Wix) or a CMS (such as WordPress, Magento, Joomla, or Drupal). Confused? That's okay, keep reading, and we'll break it down for you.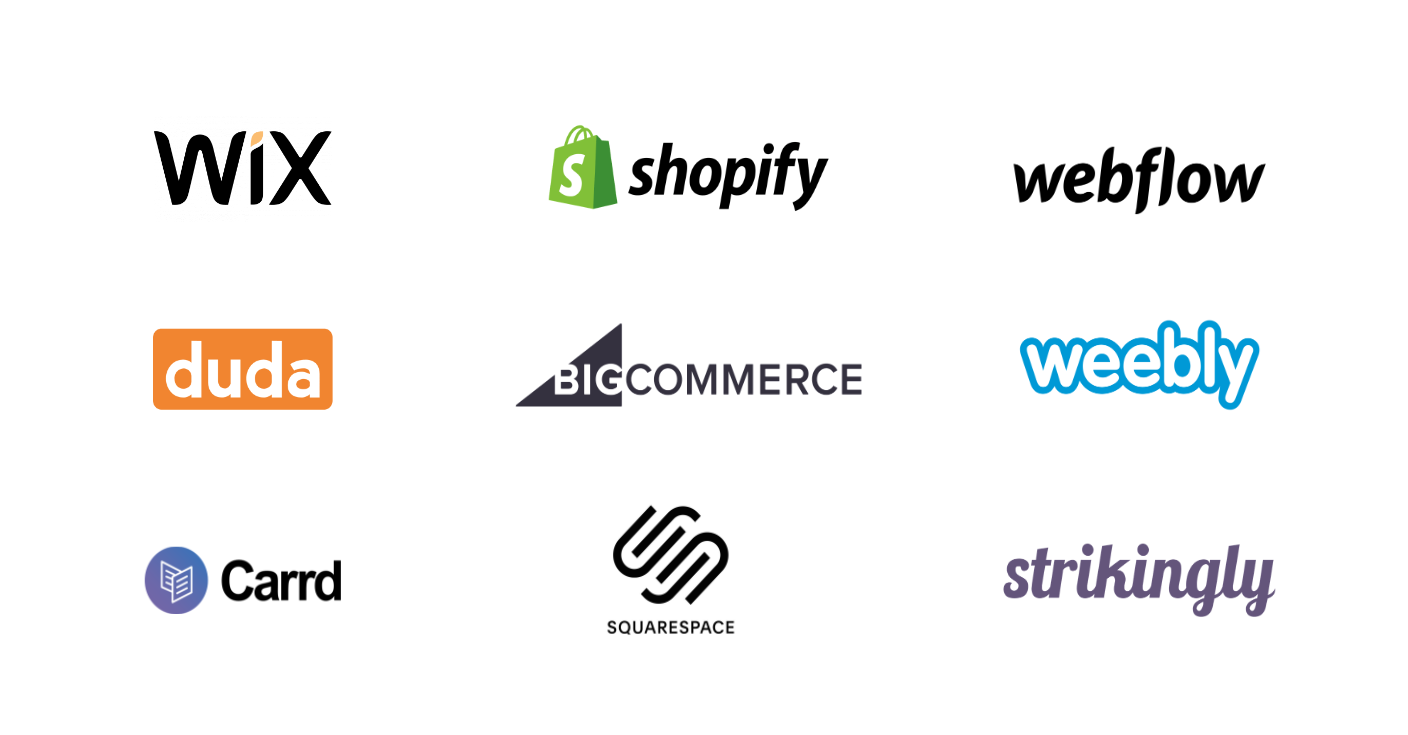 Website Builders
A website builder will help you create a simple website with ease. The user features are easy to understand for beginners and don't require you to maintain anything behind the scenes. It's as simple as going to their website and following the steps. Most will have paid subscriptions based on your business needs, but some have free options you can use to trial or build parts of your site out before paying anything.
Some disadvantages to website builders are that you typically don't own the files that create your website. That means if you outgrow the website or move to another platform, you will almost certainly have to rebuild it from scratch. Another downside is locked functionality; if you want to activate a certain feature that isn't included in your subscription, you'll wind up having to pay extra to unlock it.
These builders offer decent, quick options for a low-budget, low-tech website. Here's a quick look at some of the most popular options
Wix
Wix has a free 14-day trial and prices range from $0 to $49 per month. It allows for month-to-month, annual, and two-year term lengths. There is a free plan available, it's highly user-friendly, has 800+ design templates, and a large Wix App Market. It's not great for large online stores and has limited storage. It only has basic eCommerce integrations and only offers call-back support.
Squarespace
Squarespace starts from $12 per month annually. It offers powerful blogging, unlimited bandwidth, storage, and integrated design options. The design options are less intuitive, it has limited eCommerce features unless it's a premium plan, and doesn't offer as many apps and add-ons.
Shopify
Shopify is one of the best eCommerce platforms available. It also has a free 14-day trial and prices range from $29 to $229 per month with month-to-month, annual, and two-year plans available. It has strong scalability, top-notch support, 6,000+ integrations, extensive eCommerce features, and strong reporting and sales analytics. The higher-tier plans are pricey, free templates are limited, it isn't as intuitive as other builders, and the lowest-tier plans limit selling features.
Weebly
Weebly starts at $6 per month and has eCommerce features in its entry-level plans. It's extremely easy to use, affordable, has unlimited storage and bandwidth, hundreds of themes, and over 300 apps available. Customization and support are limited.
Be careful not to purchase domain names through your site builder– even though they may try to sell you one, it's always better to use a dedicated domain provider (see above) to buy the domain, and then "point" it to your new site.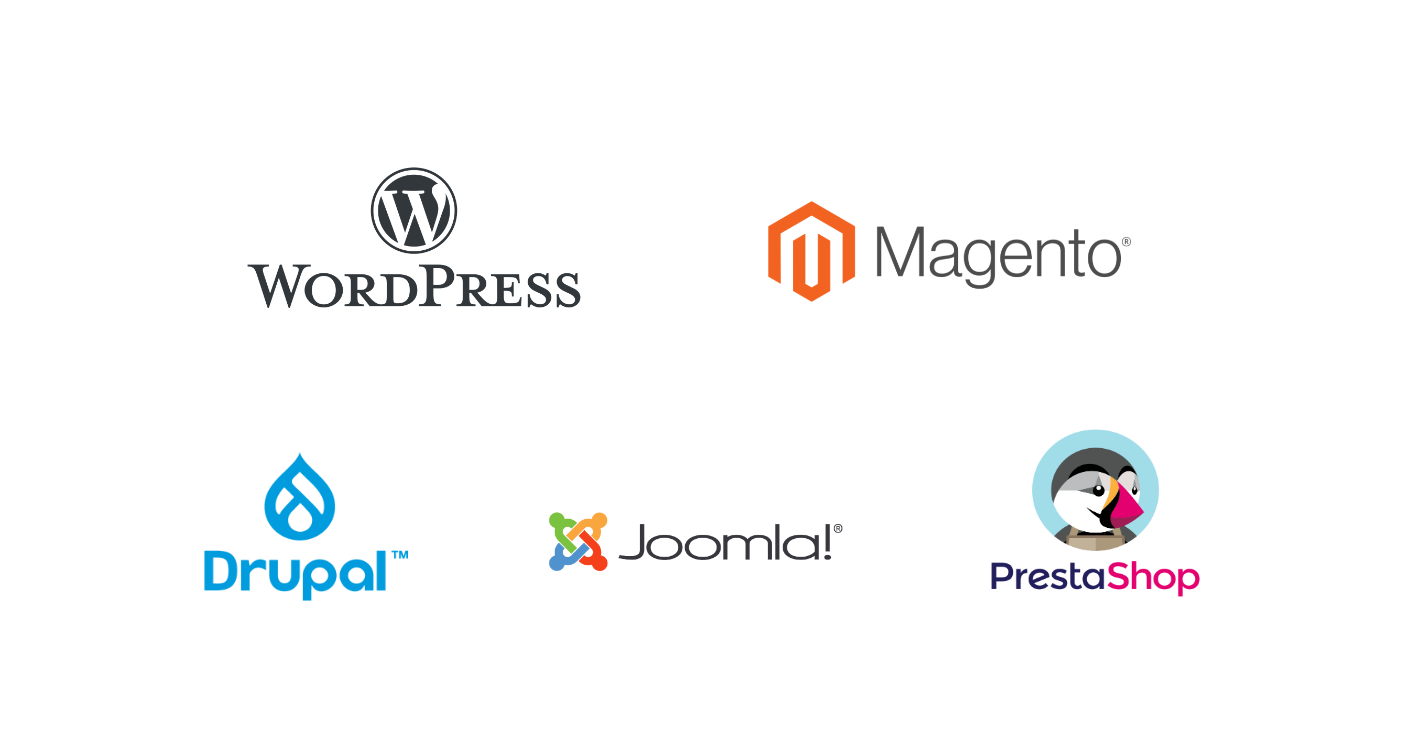 Content Management System (CMS)
A CMS is more in-depth and requires intermediate-to-expert tech expertise but gives you much more control and ownership. With an open-source CMS, you own the site files and have full control over how you edit, manage, and maintain your website. Customization options are unlimited. You also don't have to worry about rebuilding your site if your business experiences rapid growth or needs a different hosting plan.
Some CMS platforms are free, while others charge a monthly fee. There are typically additional costs with the free options including extensions, designs, and hosting.
If you're tech-savvy, this is something you can do yourself. If you aren't, but still want the benefits of a CMS website, you'll need a web developer or design agency for small businesses.
There are several steps to creating a CMS website; let's walk through them one at a time.
Choose a System
Before starting, you'll want to select a CMS that meets your needs. Some popular CMS options are WordPress, Joomla, Drupal, or Adobe Commerce (formerly Magento). They each have their own benefits and downsides. Remember, you'll have to pay for hosting for any CMS website.
WordPress.org is by far the most popular CMS software and powers around half of all websites on the internet. It's important to remember this is different than WordPress.com, which is a blog hosting platform.
It's extremely friendly for beginners, has 7,000+ free themes and 56,000+ free plugins. Additional paid enhancement options and themes can range from $0 to $1,300.
Joomla is an award-winning CMS that enables you to build websites and powerful online applications. It's somewhat beginner-friendly, though not quite as much as WordPress.
It doesn't have an official template directory, but you can find 1,100+ themes at ThemeForest. There are 8,000+ official extensions (free and paid), and the additional costs to add functionality range from $0 to $270, making it a more cost-effective option.
Drupal also creates many of the websites and applications used every day. It requires coding skills to use.
There are almost 3,000 official themes and 500+ premium themes for Drupal at ThemeForest, and 45,000+ modules to enhance the website. Additional costs for enhancements on Drupal range from $0-$200, which is another budget-friendly option.
Adobe Commerce (formerly Magento) is the leading platform for open commerce. It handles over $100 billion in gross merchandise volume annually. It also requires coding skills.
There are not many official Magento themes, but 600+ themes are available at ThemeForest. Magento offers 3,300+ extensions in its marketplace, with many more available on other 3rd-party platforms. Additional costs for enhancements with Magento range from $0-$30,000. Even with this high-dollar range, small business websites won't typically rack up high costs, though Magento may not be as cost-effective as WordPress, Joomla, or Drupal.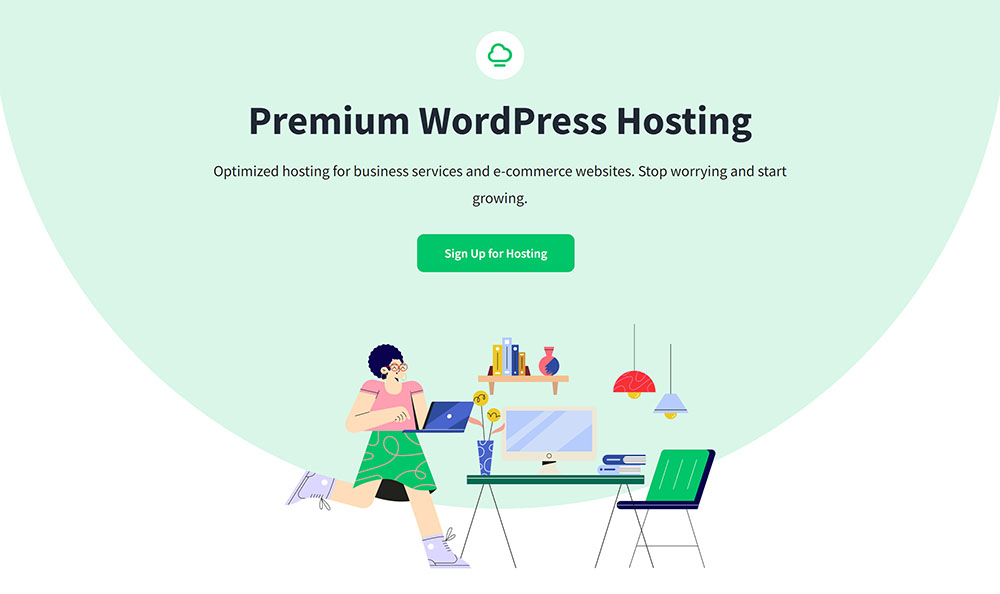 Select Hosting
Hosting your website is the internet's equivalent to leasing a building or space for your business. With website builders, the hosting is built into the subscription. When you use a CMS, you typically have to choose and pay for the hosting provider you want.
Each provider offers its own hosting plan(s) to choose from. There are endless options for providers. One of the best options for WordPress sites is Kinsta. It's fast, reliable, and secure, and it comes with top-notch customer support.
If you don't want to run backups, maintain security, and fix bugs for your website, design agencies often offer premium hosting packages where the agency handles it for you.
Install the CMS
After signing up for hosting, you'll install the CMS platform. Follow the steps the system offers and copy the files to your host.
Customize Your Design
It's time to build or choose a theme and start designing your website. ThemeForest is a great resource to get started. You can find prebuilt templates in most CMS platforms and across the web. The CMS will have tools to customize design, create and edit pages, add menus, change layouts, and add logos.
Choose and Install Plugins
Plugins allow you to add the functionality you need to your website. Examples include adding eCommerce features to WordPress with WooCommerce, or payment providers to Magento. We usually recommend researching the plugins and themes to make sure the developers are regularly updating them, the reviews are many and positive, and the price is comparable to others with similar functionality.
Upload Content
Now that the design is customized, you can add your content. Any images, text, or media files can be uploaded and integrated into the design to personalize your project. Get inspiration from other websites in your industry, or research best practices for content layout. You can find premium royalty-free images at iStock, and free ones at Unsplash.
Final Steps
Once your content is in place, review your site with others to look for any errors and fix them. Check for spelling errors, placeholder text, photos with watermarks, and stretched or distorted images. Set your SEO settings and connect your analytics services to track your website performance. Add your site to Google's Search Console, so it appears in searches more quickly.
Go Live
If you've completed these steps and your website is ready, it's time to publish and go live! When you publish your website, you'll be able to start drawing traffic to it through marketing touchpoints. Search engines like Google and Bing will surface your site to people typing in the right keywords. Visitors to your social media pages will be able to visit your site with posted links. Email campaigns can draw attention to the latest blog post or product listing. There are countless ways to promote your new website, so having a strategy to bring those platforms together and ensure a successful marketing campaign is essential.
Using a Design Agency
Building a website can be a long and complicated process. If you are looking for a specialist to take care of the design, management, and/or hosting for you, or even just to support with smaller fixes, consider hiring a studio like Chimento Agency. Our experts have been building websites for more than twelve years, and incidentally, we're very good at it.
Get in touch and tell us what you need, and we'll help however we can.